How to make time for painting
It should be simple to make time for painting.  After all this is something that you choose to do, something that you love to do, something that makes you feel good.  So why is it so difficult to find time for something that you enjoy doing so much?
I've asked myself this many times since I returned to my passion of painting.  There has got to be a way to carve out time in the weekly schedule for doing something that you want to do. That thing that fulfills you, that thing that completes you.  The alternative is feeling like something is missing, that feeling of never doing that one thing that you love.
It sucks.  I know because I've gone long periods of time in that exact state. Days, weeks, months and yes even years!
Stop making Excuses
I have one day off in the middle of the week.  What I have found is that I'm often re-energizing on that day. Oh, also there's another part-time job that often fills some of that day, or household chores, or numerous other demands on my time.  Ok, so basically I'm always coming up with excuses and go off in other directions!
It's time to consider the positive effects of time spent painting: the personal satisfaction, the stress relief, not to mention the end result: a painting that you can be proud of and that others will also enjoy, something to hang in a gallery or even sell.
Set your Personal Goal
If painting is an important personal goal, then it only follows that you should be able to create that time and space in your schedule.  This is your own personal time and you should treat it as an investment in yourself. Make it a priority!
Here's an idea: perhaps setting a special project that really motivates you and gets you excited will help you make the time.  Like painting a favorite place, a pet or your grandchildren's portraits. Hmmm, I like that one!
Manage your Time
Managing your time differently will take some imagination.  Can you delegate some chores?  Can you rearrange your schedule? It's all about strategy!
Set a timer to control the amount of time you spend on other things.  Need to do housework? Only spend a half hour at it and leave more time for painting.
There are those things in your schedule that you have to do.  You can't change that. You could perhaps spend less time at preparing and eating meals for example.  I have a part-time job that helps pay my bills and I am committed to certain hours on certain days.
Maybe you'll have to get up extra early on some times to find the time, if you have a full and busy schedule.
If you keep a calendar, it's a good idea to actually block off the time and even send yourself a reminder. You only have yourself to answer to if you don't honor that time.
Set a Schedule
What is needed is to set up a schedule and stick to it.  No excuses, no interruptions, no intrusions!  This is a time set aside and needs to be honored! You choose exactly how much time you will spend on painting. Maybe you have to cut some time from other time commitments. Make that day the day you order take out, go out for dinner or have your partner do the cooking that day.  Now you've saved time to put toward painting!
Set up the time as though it was a class you were attending.  Create post-it notes to remind yourself of the time you've set aside and stick them on where you'll notice them: on the fridge, bathroom mirror, computer screen, etc.
Set the Stage
Create that physical space in your home where you can go and close the door.  Set up your paints, easel and brushes so that the scene is set, like setting a table.  Just waiting for you!
I truly believe that if you feel strongly about setting a goal, then following with a set schedule, you can create that time to paint that you long for!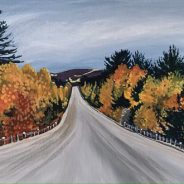 Driving on this road north holds many good memories. 12″ x 36″ acrylic on gallery wrapped canvas – SOLD Anyone who lives or who has lived in Elliot Lake, Ontario at any time is very familiar with Highway 108, the 30 km stretch of highway that leads into the town from the Highway 17 turnoff. But not everyone has driven it to its' most northern tip beyond the city where the highway ends and merges into Highway 639. At this point, you can still see part of the old road that turned off to right towards Quirke Mine, which no longer exists. Comments from a Facebook post featuring the painting: "I seen this painting and in my heart I knew it was E.L you've got the big whispy white pines perfectly (I live in AB now but grew up in Elliot Lake. I knew right away it was the 108!).", and "Absolutely stunning! I am familiar with that area. My brother worked in the mines. Really captured well." You would travel on Highway 639 on your way to Mississagi Provincial Park, or Laurentian Lodge, a beautiful log home with rental cottages on Flack Lake, or up to meet Highway 546 on your way east to Wilderness Lodge, or west to follow the Little White River, all the way around to Iron Bridge which brings you back to Highway 17! We still call this route along the river, "The Little White River Road". If you were a miner you would regularly travel along this highway back and forth at all hours on your shifts to Denison, Quirke 1 & 2, Panel, or Stanrock Mines. This stretch of highway still holds on to many of its characteristics of earlier days like the old guard rails. The asphalt gives way to a more compressed gravel and it's seems to get narrower the further you go. We've driven this road many a time, often in the spring and most definitely in the fall. The views and the vistas from the high elevations are absolutely breathtaking! There is bush as far as the eye can see, and the colours in the northern fall forest are stunning! Mother Nature is an awesome artist! After a long winter, Elliot Lakers often get a yearning to go somewhere! When they aren't in the mood for a highway drive east or west to the larger cities, they will often drive the road north. The breathtaking beauty of the scenic nature here has a way of rejuvenating...
read more