How to make time for painting
It should be simple to make time for painting.  After all this is something that you choose to do, something that you love to do, something that makes you feel good.  So why is it so difficult to find time for something that you enjoy doing so much?
I've asked myself this many times since I returned to my passion of painting.  There has got to be a way to carve out time in the weekly schedule for doing something that you want to do. That thing that fulfills you, that thing that completes you.  The alternative is feeling like something is missing, that feeling of never doing that one thing that you love.
It sucks.  I know because I've gone long periods of time in that exact state. Days, weeks, months and yes even years!
Stop making Excuses
I have one day off in the middle of the week.  What I have found is that I'm often re-energizing on that day. Oh, also there's another part-time job that often fills some of that day, or household chores, or numerous other demands on my time.  Ok, so basically I'm always coming up with excuses and go off in other directions!
It's time to consider the positive effects of time spent painting: the personal satisfaction, the stress relief, not to mention the end result: a painting that you can be proud of and that others will also enjoy, something to hang in a gallery or even sell.
Set your Personal Goal
If painting is an important personal goal, then it only follows that you should be able to create that time and space in your schedule.  This is your own personal time and you should treat it as an investment in yourself. Make it a priority!
Here's an idea: perhaps setting a special project that really motivates you and gets you excited will help you make the time.  Like painting a favorite place, a pet or your grandchildren's portraits. Hmmm, I like that one!
Manage your Time
Managing your time differently will take some imagination.  Can you delegate some chores?  Can you rearrange your schedule? It's all about strategy!
Set a timer to control the amount of time you spend on other things.  Need to do housework? Only spend a half hour at it and leave more time for painting.
There are those things in your schedule that you have to do.  You can't change that. You could perhaps spend less time at preparing and eating meals for example.  I have a part-time job that helps pay my bills and I am committed to certain hours on certain days.
Maybe you'll have to get up extra early on some times to find the time, if you have a full and busy schedule.
If you keep a calendar, it's a good idea to actually block off the time and even send yourself a reminder. You only have yourself to answer to if you don't honor that time.
Set a Schedule
What is needed is to set up a schedule and stick to it.  No excuses, no interruptions, no intrusions!  This is a time set aside and needs to be honored! You choose exactly how much time you will spend on painting. Maybe you have to cut some time from other time commitments. Make that day the day you order take out, go out for dinner or have your partner do the cooking that day.  Now you've saved time to put toward painting!
Set up the time as though it was a class you were attending.  Create post-it notes to remind yourself of the time you've set aside and stick them on where you'll notice them: on the fridge, bathroom mirror, computer screen, etc.
Set the Stage
Create that physical space in your home where you can go and close the door.  Set up your paints, easel and brushes so that the scene is set, like setting a table.  Just waiting for you!
I truly believe that if you feel strongly about setting a goal, then following with a set schedule, you can create that time to paint that you long for!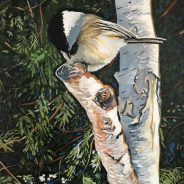 A nice aspect of living here in Northern Ontario, particularly Elliot Lake, is the abundance of nature trails. If you like getting out for regular walks in the bush, you've got it made here. There are extensive trails throughout the area that would appeal both to the novice and the more experienced hiker. One such trail and a very popular one year-round is the trail system surrounding the Sheriff Creek Wildlife Sanctuary. Here you'll find an easy walking trail through the bush, field, over boardwalks, and along a lake. There are many bird feeders and feeding stations that cater to the local birds such as this little chickadee caught chipping away at some sap on a birch tree stump. Chickadee Snacktime 12 x 16 acrylic – $225 White birch and cedar trees are found all over our forests, so this would be a very familiar sight. Chickadees can be found year-round here. Like us, they brave the winter's cold. I haven't painted many birds but really enjoyed painting this little...
read more